Veterinary Assistants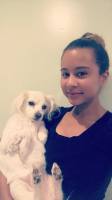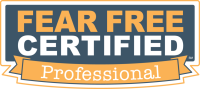 Carolina has always had a passion for veterinary care. She started at our hospital in August of 2017 but brought with her 2 ½ years of experience and is currently working on her BA in Biology so she can apply to veterinary school. Even while home, Carolina is always seeking opportunities to volunteer at animal shelters, brushing up on her technical skills, and learning about any new changes or trends in the veterinary field. Carolina is also a chihuahua fanatic (second to Christine A.). She has one cat named Nala and five Chihuahuas, Lola, Noni, Candy, Blackee, and Patootie.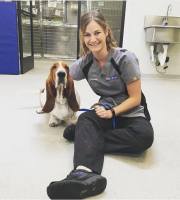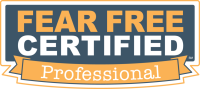 Stephanie joined our team in August of 2016. She went to school at Cal State Long Beach and graduated with a BS in Marine Biology. She plans on eventually going back to school to become an RVT. When she's not working she likes to read and have fun with her pets. Stephanie has two crazy dogs and three loving cats at home.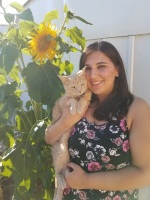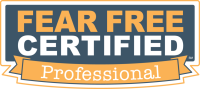 Julia joined Covina Animal Hospital in May 2017 after working with the retired racing greyhounds at Mt. SAC. She is currently in school to obtain her animal science degree from Mt. SAC and plans to become a Registered Veterinary Technician after she graduates. When she's not loving up on her 3 adorable cats, Julia enjoys reading, nature photography, swimming, video games, and baking yummy sweets.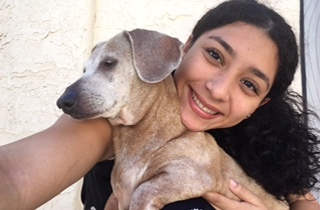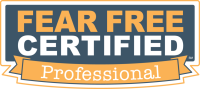 Martha began her relationship with our hospital as a client and eagerly applied to join our staff this summer. She is currently in the RVT program at Mt. Sac but is undecided as to whether she wants to be a veterinarian or a veterinary technician - it's a tough choice! When she's not loving up on all the patients that come to our treatment area, Martha enjoys binge watching Netflix and spending quality time with her sister. At home, Martha has a dachshund named Chiquita and a chihuahua-mix named Lucky. She is also a crazy doxie lover so, naturally, Chiquita is her favorite (shhh!).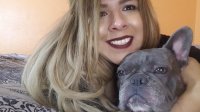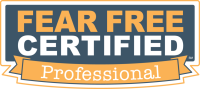 Cynthia graduated from Carrington College and joined our team in September 2017 and brings 4 years of experience working with animals. She started out volunteering with the Inland Valley Humane Society and then started working in hospitals when she enrolled at Carrington. One of her favorite aspects of this field is educating clients and seeing their pets' health improve. In her spare time, Cynthia enjoys shopping, traveling, hiking, and going to the park and beach with her frenchie, Bella. Cynthia also has a cat named Kitty!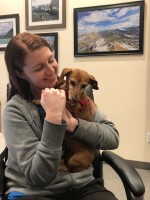 Mackenzie,
Project Manager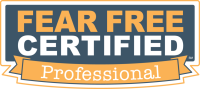 Originally a farmer's daughter from Massachusetts, Mackenzie moved to California in 2012 to go to school and find her passion. She completed her B.A. in Psychology at Chapman University in Orange, CA and is now expected to graduate from the Veterinary Technology Program at Carrington College in late 2018. Her goals are to become a licensed veterinary technician and to continue pursuing her passion for animal medicine and behavior.  When she's not calling dibs on all the dachshund appointments, she's working behind the scenes with the management team, making sure our doctors, support staff, clients and patients all go home happy at the end of the day. Mackenzie enjoys evenings by the firepit at local restaurants and adventurous weekend getaways with her fiancé. More than anything, though, she loves lounging at home with her dachshund named Bean, 2 chihuahua's Smith and Rudy, and her rowdy kitten named Kiwi.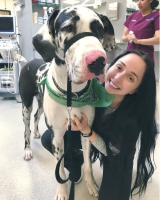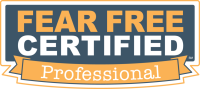 A true cat lover and pitbull enthusiast, Amber started her career in veterinary medicine so she could be a voice of advocacy for all animals big and small. After just a few months of working at CAH she started managing our social media platforms, using them to continue educating pet owners outside the exam room and share what it means to be a patient at Covina Animal Hospital. When she's not posting cat memes or recording hospital shenanigans, Amber loves taking her rescued pittie on long hikes at the local trails. Along with her pitbull, Trixi, she has a loveable (not really) seal-point cat named Sage.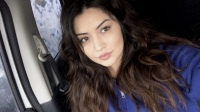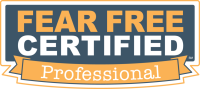 After working at Quality Care Animal Hospital for 3 years, Karen transferred to our hospital so she could continue caring for her same patients. When she was younger, she lived down the street from Covina Animal Hospital with her own dogs and cats. Seeing pets walking in and out of our clinic inspired her to work with animals. Karen went to school at Mt SAC and later attended Animal Behavior College to become a Certified Veterinary Assistant.  In her spare time, Karen likes to play tennis, hit the gym, eat pizza, and watch Game Of Thrones. She has 3 cats named Baby Girl, Bad Girl, and Fat Girl, and a husky named Blue.